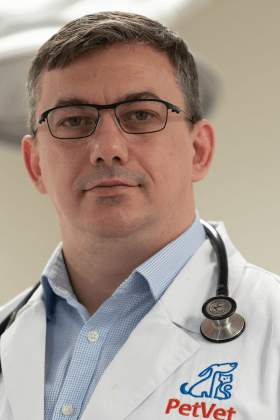 Dr. Nazar
From a young age, Dr. Nazar had a deep love for animals. Growing up in Ukraine, he spent hours playing with his family's pets, learning about their habits and quirks, and always dreamed of finding a way to help them. As he grew older, that love turned into a passion, and he decided to pursue a career in veterinary medicine.
Dr. Nazar attended the Lviv Academy of Veterinary Medicine in Ukraine, where he studied under some of the most esteemed veterinarians in the country. His passion for the field only grew stronger as he learned more about animal health and treatment, and after completing his doctorate, he set his sights on the United States.
Upon arriving in the US, Dr. Nazar continued his education with clinical training at Iowa State University's College of Veterinary Medicine. After completing his clinical training, Dr. Nazar settled in New Jersey, where he became a certified expert in regenerative stem cell therapy and completed courses in endoscopy and ultrasonography. With over 14 years of experience in veterinary medicine, Dr. Nazar is a USDA Accredited Veterinarian and a member of both the American and New Jersey Veterinary Medical Associations.
Dr. Nazar's love for animals goes beyond his work at the clinic. He is a firm believer in giving back to the community, and he regularly volunteers his time to help the Bergen County Animal Shelter and its pets. It's a way for him to share his passion with others and positively impact the world.
As a highly skilled and experienced veterinarian, Dr. Nazar knows that there is always more to learn, and he is constantly striving to stay up-to-date with the latest advancements in the field. One of the areas that Dr. Nazar is currently focusing on is pain management, and he is pursuing certification as a Certified Veterinary Pain Practitioner. He is also involved in the development of a veterinary rehab facility in Cranford, NJ, where pets can receive the care and support they need to recover from injuries or surgeries.
At Fort Lee PetVet, Dr. Nazar is a proud partner who brings his special interests in ophthalmology, preventative medicine, and dermatology to the forefront. Dr. Nazar's journey is a testament to his unwavering dedication to the field and his love for animals.