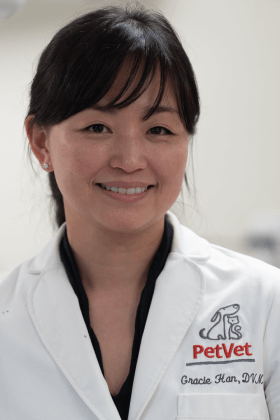 Dr. Han
Dr. Han's journey to becoming the highly trained and compassionate veterinarian she is today began at a young age. Her passion for animals was always evident, and it was her dream to find a way to help. Dr. Han pursued her undergraduate degree at Roanoke College in Virginia, followed by her Doctor of Veterinary Medicine degree at Iowa State University's College of Veterinary Medicine. It was there that she honed her skills and met Dr. Nazar.
Post Veterinary school, she spent her time at small animal hospitals in Bergen County, NJ, and Westchester County, NY. Dr. Han saw the value in exploring different treatment options for her patients and forged her own path by completing a certification program in veterinary acupuncture at the Chi Institute of Traditional Chinese Veterinary Medicine.
In addition to her certification in veterinary acupuncture, Dr. Han is certified in veterinary stem cell therapy and is a USDA Accredited Veterinarian. She is a member of both the American Veterinary Medical Association and the New Jersey Veterinary Medical Association. Dr. Han's unwavering dedication to animal care shines through in every aspect of her work, and we are honored to have her expertise and care benefitting pets in the Fort Lee area.